Do you want to have a lush and picture perfect lawn by next spring and summer, the best time to start is in the fall before your lawn goes dormant for the winter. Having a great looking and healthy lawn year-round can be a seemingly overwhelming challenge. Fortunately, with the fall lawn maintenance checklist provided below you will be guided in steps to properly prepare your lawn for the coming seasons.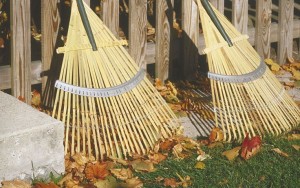 Rake Autumn Leaves
Autumn leaves are nice to look at, but once they fall on your lawn, you need to rake them or use a leaf blower to remove them. If the leaves remain on your lawn it prevent your grass from getting the sunlight and air required to survive and thrive. This could result in unpleasant repercussions, including lawn disease. You should do this at least once a week for maximum benefits. Depending on the amount of leave, you may also be able to use a mulching mower to chop up these leaves.
Seed And Feed
To have a beautiful, attractive and healthy lawn next year, remember these words: "seed and feed". By using Top Cut Lawn Care Service's seeding service this fall, you can plant the seed to a better lawn.
Seeding & Feeding Your Lawn in Fall can have a Variety of Benefits:
Services include slitting or slicing the soil of your lawn to make it more likely for the grass seeds to drop into and grow. A thicker, lusher lawn means less chance of lawn diseases, weeds, or insect's infestation in your lawn.
Top Cut Lawn Care Service can help you correctly aerate your soil and your lawn – soil aeration is vital to lawn growth. After your lawn has been aerated it is also a great option to have grass seed applied onto the freshly aerated ground.
Fall Lawn Fertilization
Appropriate lawn fertilizing is also a critical part of good lawn growth. Lawn fertilizing provides a slew of required nutrients for your lawn to store and use in the winter. Even when in the winter your lawn is dormant, the roots of grass will keep on growing during this time, so proper fertilization can help prepare your lawn for spring.
Mow Your Lawn Before The Winter
At the end of fall, you can more closely mow your lawn. However, never cut off more than 1/3 of the lawn at once, this is not good for its health; you also do not want to scalp it. It's very important for prolonged lawn health to pay attention to the right height to mow your grass. If you do not have enough time you may hire the professional's at Top Cut Lawn Care Service to complete the job.
Remember, to have a picture perfect lawn next spring and summer, the time to start work is right now. Use the checklist above to make sure your lawn is ready for the coming months. If you need more information on treating your lawn in the fall, contact your local Top Cut Lawn Care Service professional for tips and help.