There are some important things to take into consideration if you want to have a lush and great looking lawn. In this post you can learn the required steps in obtaining a beautiful lawn, which you and your family can enjoy together. You may take these steps yourself if you have the required experience and available time, or you may hire a professional lawn care service company like Top Cut Lawn Care to do the job for you. Below are the steps in obtaining a lawn that will be the envy of the neighborhood: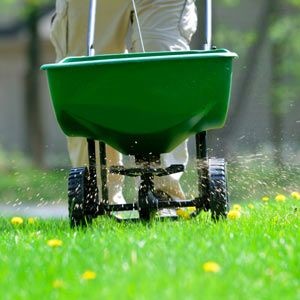 Watering
An important part of keeping your lawn healthy is making sure that it has enough water to survive. Often times mother nature takes care of this, especially in spring and fall, however in the mid‐summer months we can get droughts which will begin to dry up and burn out the lawn. In these conditions it is important to make sure that your lawn receives about two inches of water per week in order for it to survive, but this can vary depending on conditions.
Lawn Fertilization
Your lawn requires nourishment in order to thrive and grow properly. The next required step in your journey of obtaining the perfect yard is through regular lawn fertilization and weed control. This helps your lawn become lush and controls weeds such as broad-leaf, dandelion, clover, chickweed, crabgrass and many other weeds that affect the health and look of your landscape, these weeds can grow high and overpower the healthy grass of your lawn. Pulling weeds yourself is often not enough to stop them from invading. The truth is that by the time you have to pull these weeds, they have already gotten a foothold in your lawn. Also, if you have weeds growing in your landscape beds, a natural and effective way to stop weeds can be to install mulch in your landscape beds. Mulch installation can be done around trees, the perimeter of the house, or anywhere you choose! Mulch installation is most effective with a minimum installation depth of 3" as this blocks sunlight from reaching the soil in order to stops weeds from growing. Mulch can add a nice touch to help you achieve a beautiful, weed‐free landscape.
Lawn Mowing
Lawn mowing does not mean to just simply cut the grass, but it also requires knowledge of the different types of grasses, soil conditions, terrain, and the recommended height by which the grass needs to be mowed. Lawn cutting seems like a very easy and basic task to do but it is labor intensive and requires experience and knowledge in order to receive the optimal care of your lawn. Every lawn is unique so it requires a unique lawn cutting, every lawn technician should know the optimal and most effective navigation patterns of a lawn's terrain in order to achieve the most evenly cut lawn and superb looking yard.
Pest Management
Different kinds of pests like moles, mice, voles, ground-hogs and other animals can destroy your beautiful lawn. Insects, especially mosquitoes and ticks, can be very pesky, other insects also feed on your lawn, shrubs and plants as well which is why it is important to integrate pest management into your to‐do list.
Regular Lawn Maintenance
The previous four steps are essential in obtaining a picturesque landscape, however doing them in the incorrect interval or at the wrong time can deem them ineffective. Regular Lawn Maintenance at its suggested intervals is vital in achieving the yard you dream of. Making sure your lawn is being cared regularly and in the appropriate manner is the only way to have a lush lawn, beautiful landscape, and strong and healthy plants throughout the year.
Top Cut Lawn Care Services
Top Cut Lawn Care is a reputed lawn care service company providing the best lawn care service​s like lawn maintenance, mulch installation​, landscaping, over seeding, aeration, seasonal cleanup and shrub and tree trimming. Simply choose Top Cut Lawn Care as your all‐in‐one solution for true lawn care you desire.
More